SDGs
"SDGs" is the abbreviation for "Sustainable Development Goals", a collection of 17 goals and 169 targets to be achieved by 2030, adopted at the United Nations Summit in September 2015 as an international goal for a sustainable and better world.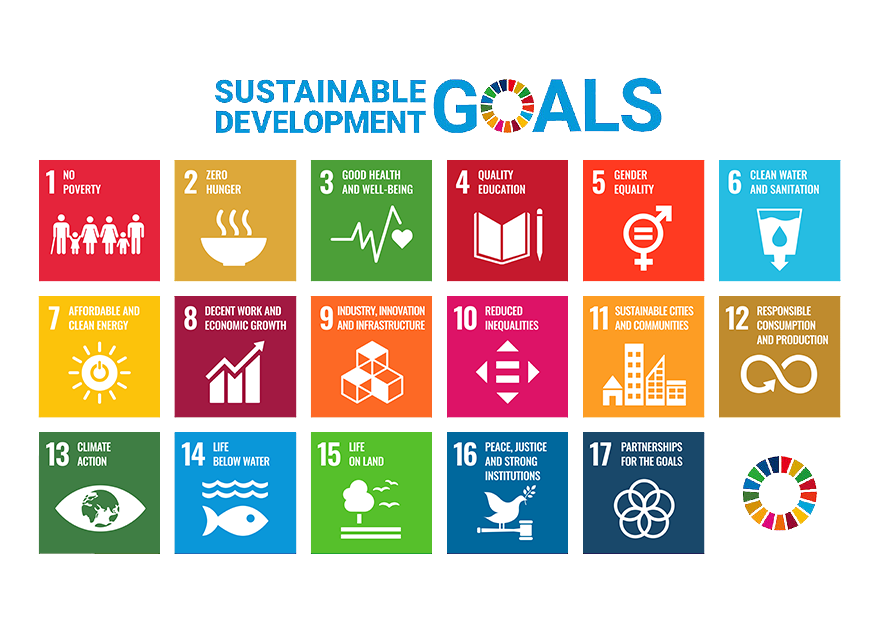 Our primary focus is on a total of ten of these 17 SDG goals.
<Environment> Contributing to the realization of a carbon-free and recycling-oriented society
<Safety & health> Contributing to the safety and health of employees
<Contribution to society / community coexistence>Contributing to the sustainable development of local communities
Aiming for sustainable growth in local communities and around the world, we conduct our business activities for people's health, with our primary mission of stably supplying high-quality pharmaceutical products. We will contribute to solving social issues through the implementation of two company-wide management systems (EHS and Eco Action 21).
EHS
Zensei Pharmaceutical Co., Ltd. has set up an EHS office and established environmental and occupational safety & health management systems in order to prevent environmental pollution caused by our business activities and to promote the prevention of occupational accidents and illnesses among our employees. All of our employees are involved in these efforts to avoid risks and other potential problems.
Occupational Safety & Health Policy
We respect the diversity of our employees and their working styles, actively promote occupational safety and health efforts, and promise to act as follows, with a high sense of ethics in order to prevent occupational accidents, promote good health, and create a comfortable working environment:
1

We will promote the prevention of occupational accidents and illnesses by identifying sources of danger associated with our business activities and conducting appropriate risk assessments.

2

We will comply with relevant laws, regulations, and other requirements associated with our business activities, and strive for continuous improvement via the PDCA (Plan-Do-Check-Act) Cycle.

3

In order to reduce occupational safety and health risks associated with our business activities, we will work on the following priority items:

1) Reduction of risk by improving working environments
2) Reduction of risk by improving working behavior
3) Reduction of risk in handling chemical substances and other materials
4) Reduction of risk of health problems through the creation of comfortable environments
5) Efforts for mental health care to promote the maintenance of workers' mental health

4

We will raise awareness and understanding of occupational safety and health among all our employees and subcontractors, so that they can act with each own awareness and responsibility.
Eco Action 21
Basic Principles
Our primary mission is a stable supply of our pharmaceutical products so as to contribute to people's health. In order to fulfill that mission, we strive to become a good partner of choice winning the trust of our valued customers through our efforts to improve our quality, technology, and productivity and by adapting to changes in the environment. Also, recognizing that environmental conservation is a common and important issue for our survival into the future, we will strive for environmental conservation activities with our own goal of being a manufacturer that is friendly to the global environment.
Environmental Management Policy
In order to preserve a livable global environment for future generations, we will appropriately assess our environmental impact, with a focus on the following priority items, and work on continuous improvements in our environmental management system with all our employees' full participation.
1) Reduction of CO2 emissions by promoting energy saving
2) Reduction of disposal and exhaust amounts, and promotion of recycling activities
3) Reduction of paper usage by promoting company-wide paperless operation
4) Appropriate management of chemical substances, and compliance with environment-related laws, regulations, and other requirements
5) Promotion of tree-planting, greening, and neighborhood cleaning activities for regional revitalization
6) Commitment to SDGs initiatives (environment, safety & health, community coexistence)